The Art and Craft Trail - 24th 25th and 26th June 2011
Geoff had a very small exhibtion at the W I Hall in Arnside
As a member of the Art and Craft Trail, a multi venue event that takes place in and around Arnside and Silverdale, villages in the north of Lancashire every year during the last weekend in June.
Thanks to all who bought prints, cards, books and bookmarks. Also to those who stopped for a chat, especially Anne and her sister from Ilkley, Yorkshire.
Hello! to the visitor who picked up (and put back) The Two Towers book by Tolkien - then he vanished as if by magic !!! Marianne and I were told who he was ........
The event website....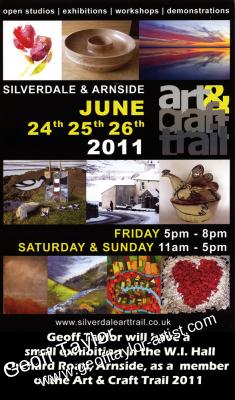 Art Trail 2011