Black Jade
Original Art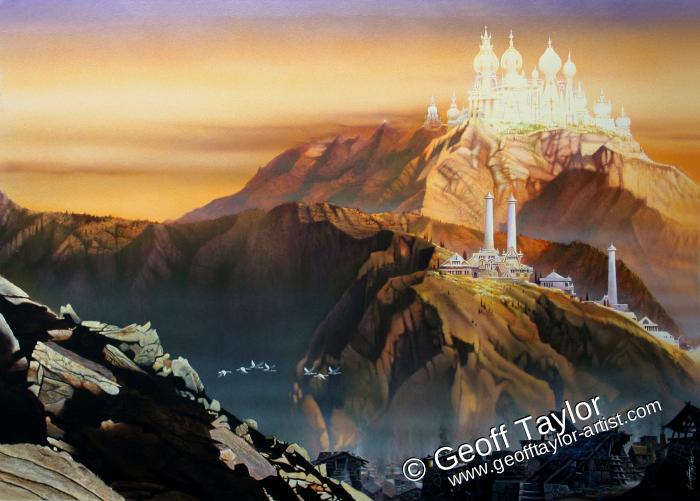 Cover(s)
Selecting these images will provide an enlargement. In some cases the images is of low quality, we hope to improve them when a better image is available. If you can help, or know another instance of the art's use, please contact us.

Description
This painting by Geoff Taylor is set in a mountainous region.A white ivory coloured city sits on top of a rocky mountain, like a fortress. Below in the foreground is a ramshackle town, where the poor people live. Swans fly over the rocky terrain.

Series
Book Three of the Ea Cycle
Synopsis for Original Title
Valashu Elahad rescued the Lightstone from the dark hell of the enemy's own city, only to have his triumph overturned. Once more the Lord of Lies has the sacred gem in his possession and its power is invincible. Val burns with shame. Treachery surrounds him. His only hope is the Black Jade that lies buried in the heart of a cursed and blighted forest, forgotten since the War of the Stone. Through this, the greatest black gelstei ever created, Val will seek to understand the darkness inside himself so that he can use evil to fight evil. If he does not, the world will fall into final corruption as the Dark Universe of the Lord of Lies. In either case, evil prevails. But Val must risk everything, even his soul. The stakes are too high for anything less. Val is the Guardian of the Lightstone until a new master is made known, that person who will rightfully wield its power. Should Val find the sacred gem and take it for himself, he will become a new Red Dragon, only mightier and more terrible than the Lord of Lies

| | |
| --- | --- |
| Details | Availability |
| | Please Quote Ref: 67 |
1. Where possible the year shown is the actual creation year, though where this has not been available the first known publication date has been used for reference.
2. Sometimes the Medium is listed as Unknown. In most cases this is due to the original being lost or sold. With few records remaining,
3. The Size shown is approximate, +/-1 inch (2.5 cm). If the exact size of the image, and medium is required, please
contact us.