The Lightstone
Original Art
This Painting is for Sale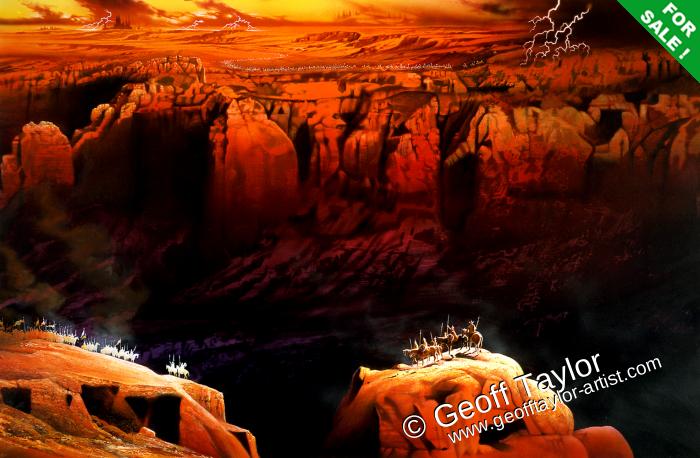 Cover(s)
Selecting these images will provide an enlargement. In some cases the images is of low quality, we hope to improve them when a better image is available. If you can help, or know another instance of the art's use, please contact us.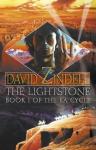 Description
In this epic landscape painting by Geoff Taylor there is a bird's eye view of a world with vast mountain ranges and deep crevasses. In the far distance thunder storms rage with lightning bolts and darkened skies. In the distance an army marches along paths close to the edge of a plateau, making their way across the land. In the foreground there are two mountain tops. One with an army of riders on horseback ready for battle. On the other, half a dozen soldiers on horseback with spears looking over to their opponents, lit with the remnants of a setting sun.

Synopsis for Original Title
The Lightstone.The world of Ea is an ancient world settled in eons past by the Star People. However, their ancestors floundered, in their purpose to create a great stellar civilisation on the new planet, they fell into moral decay. Now a champion has been born who will lead them back to greatness, by means of a spiritual and adventurous quest for Ea's Grail. The Lightstone. His name is Valashu Elahad, and he is destined to become King. Blessed (or cursed?) with an empathy for all living things, he will lead his people into the lands of Morjin, into the heart of darkness, wielding a magical sword called Alkadadur, there to recover the mythical Lightstone and return in triumph with his prize. But Morjin is not to be vanquished so easily.

| | |
| --- | --- |
| Details | Availability |
| | Please Quote Ref: 352 |
1. Where possible the year shown is the actual creation year, though where this has not been available the first known publication date has been used for reference.
2. Sometimes the Medium is listed as Unknown. In most cases this is due to the original being lost or sold. With few records remaining,
3. The Size shown is approximate, +/-1 inch (2.5 cm). If the exact size of the image, and medium is required, please
contact us.