Breathe (00)
This illustration by Geoff Taylor, was originally used on
Breathe: A Ghost Story, written by
Cliff Mcnish
Original Art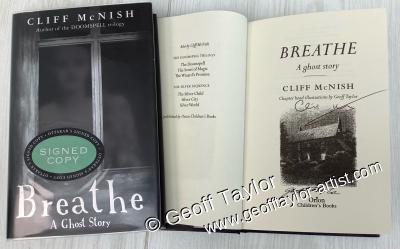 Cover(s)
This cover is used for reference purposes only. Neither the artwork or copyright belong to Geoff Taylor, but instead belong to the publisher/artist. Please do not contact us for Details or Availability.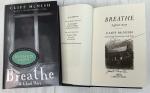 Synopsis
Breathe: A Ghost Story by Cliff McNish. Jack is used to danger. His asthma has nearly killed him more than once. But his new home has a danger he's never known before - the spirits of the dead. They can't breathe, but in Jack's house they CHASE, HIDE and SCREAM. Only Jack can see them. Only he can hear them. And only he can learn their secrets in time to save himself. But first he must confront the terrifying Ghost Mother... 'Breathe' is the multiple-award winning ghost story which was voted one of the top 100 novels of all time by British school librarians in April 2013.

Description
"Breathe: A Ghost Story" by Cliff McNish with chapter illustrations by Geoff Taylor. There are a few double signed hardback 1st edition unread books and some proof copies double signed also, by Geoff and Cliff McNish. £15 for hardbacks and £15 for the proof copies + postage approx £3.

| | |
| --- | --- |
| Details | Availability |
| | |
1. Where possible the year shown is the actual creation year, though where this has not been available the first known publication date has been used for reference.
2. Sometimes the Medium is listed as Unknown. In most cases this is due to the original being lost or sold. With few records remaining,