Great Love Stories (00)
Cover(s)
This cover is used for reference purposes only. Neither the artwork or copyright belong to Geoff Taylor, but instead belong to the publisher/artist. Please do not contact us for Details or Availability.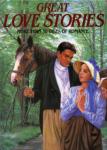 Description
Great Love Stories: More Than 30 Tales of Romance (Originally Published as Romance Stories) Stories:- The Edge of the Cloud by K.M. Peyton; The Prince Comes Back by L.M. Montgomery; The Return by Peggy Woodford; The Romantic Young Lady by W. Somerset Maugham; In the Lane by George Eliot; The Four Swans by Winston Graham; Fall Out by Philip Turner; Wuthering Heights by Emily Bronte; Frenchman's Creek by Daphne du Maurier; Won by a Fall by L.P. Hartley; Faro's Daughter by Georgette Heyer; Love Kept Waiting by Rhys Davies; Northanger Abbey by Jane Austen; Doctor in Love by Richard Gordon; John has hope of Lorna by R.D. Blackmore; A Handful of Earth by Decia Hutt; Anna Karenina by Leo Tolstoy; The Pilgrimage by Joan Lingard; Under the Umbrella by Louisa May Alcott; Evelina by Fanny Burney; I Capture the Castle by Dodie Smith; The Misplaced Attachment of Mr John Dounce by Charles Dickens; The Beautiful Visit by Elizabeth Jane Howard; The Pyramid by William Golding; Jane Eyre by Charlotte Bronte; George Lambert and Miss P. by Margery Sharp; The Old Rectory by Ursula Bloom; Parson Harding's Daughter by Joanna Trollope; 'God's Will Hath No Why' by Maria von Trapp;

| | |
| --- | --- |
| Details | Availability |
| | |
1. Where possible the year shown is the actual creation year, though where this has not been available the first known publication date has been used for reference.
2. Sometimes the Medium is listed as Unknown. In most cases this is due to the original being lost or sold. With few records remaining,